Hollyfield's GCSE Results 2023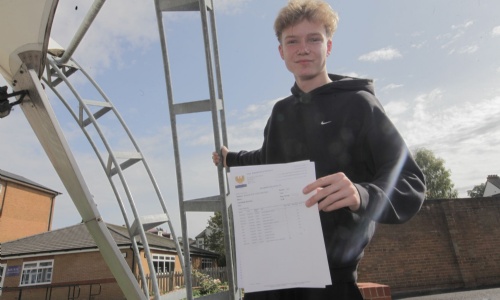 The Hollyfield School is delighted to report the excellent achievements of our students in their GCSEs and BTECs. In addition to the great success of the year group as a whole, there were some incredible results for individual students. Luca Mitchell achieved an incredible ten grade 9s and one grade 8. He said he was proudest of his Further Maths result (a 9), which was the highest mark awarded at Hollyfield. Oscar Gossage attained an amazing nine grade 9s, one 8 and one 7, while Heather Augustin achieved a very impressive nine grade 9s and one grade 8. Katherine Keaney attained six grade 9s, three grade 8s and a grade 6. She said she was very happy with her results, which were even better than expected. Nicholas Bowyer was awarded four grade 9s, three grade 8s, one 7 and one 6 - as well as a Distinction for BTEC Media. He was proudest of his English Literature result, having spent the longest revising for it. Kitty Sebuliba achieved a BTEC Distinction for Media Studies and a Distinction* for Health and Social Care, while Elliot Forey achieved Distinctions in both Media and Business Studies. What talented and hardworking students!
The number of students achieving grades 7 and above at GCSE (which would have been A grades or better under the old system) was really pleasing, particularly in subjects like Further Maths, Biology, Chemistry and PE, where over 45% of students achieved them. In Maths, Art, Business Studies, Drama, Food Technology, Geography and Spanish, over 66% of students achieved a grade 5 or above. This number was over 80% in English, Biology, Chemistry, Physics, Music and PE. Our BTEC Media Studies students did exceptionally well, with 63% achieving Distinction* to Merit grades and 44% of our Health and Social Care students achieved those grades, too. Overall, 24% of our BTEC students achieved Distinction* or Distinction results and 50% were awarded Merit grades or higher. Our enrollment to sixth form is very strong and a team of staff has been on hand to offer advice and guidance to students.
Mr Buckman, Assistant Headteacher KS4 said: 'My congratulations to all of our Year 11 students on an excellent set of results. This is a culmination of their hard work and determination. They can be rightly proud of their achievements. I wish them all the very best for the future and look forward to welcoming back those who will be joining our Sixth Form in September.'
Headteacher, Amy Jackson, said: 'Congratulations, Year 11. You've absolutely smashed it. We know the amount of work you've put in - not just in Year 11, but throughout the course of your studies. I'd like to take a moment to thank our staff and all the parents and carers for their support. As for our wonderful students: Enjoy the day, enjoy your celebrations and good luck with your next steps.'