A Level Results Day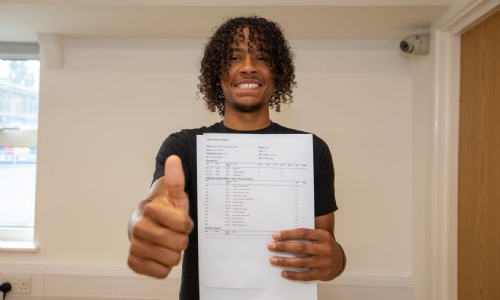 Hollyfield Sixth Form has had another tremendous A Level Results Day, as students celebrated their success in achieving places at a range of prestigious universities and apprenticeship courses.
It was another outstanding year in the sciences at Hollyfield. Corinne McCarthy has secured a place at Oxford University's Wadham College to study Biochemistry. Corinne achieved A*A*A* in Mathematics, Chemistry and Biology, and she said: 'I'm over the moon. These results are even better than I expected. I would advise Hollyfield students to pick subjects they enjoy. That's what made the biggest difference for me. I loved my subjects, so I was happy to work hard.'
Other notable successes in Maths and the Sciences include Jess Macnaughton A*, A*, and who will study Biological Sciences at Birmingham University. Jess said: 'This feels unreal. After a really tough two years, it feels incredible knowing that I am going to be studying at my first choice university so soon! I cannot wait for the next chapter. Thank you to all the teachers. I'll really miss my time here.'
Daniil Manokhin achieved A*, A*, A in Further Mathematics, Mathematics and Computer Science and will do an apprenticeship. Additionally Hannah Mitchell, who achieved A*AA, has secured a place at Loughborough University and will study Automated Engineering. Shaun Mboura, who achieved A*, A, C in Business Studies, Economics and Mathematics, will study Accounting and Financial Management at Loughborough University.
In other fields, Joshua Caro achieved A*, A, A in Sociology, English Literature and Government and Politics and he will take up a place at Bristol University to study Politics and Sociology. He said that he is '...generally happy after a tough couple of years. COVID definitely had an impact, so I'm really happy to have achieved my place at university.' Both Charlotte Dickey and Marinela Atanasova will be studying Drama, Applied Theatre and Education at the prestigious Royal Central School of Speech and Drama, which is really impressive.
Kettly Brushaber will study in the USA after achieving grade A*, A, C. Lily Burfield did superbly as well achieving Distinction*, BB. Edward Nicholas secured a Distinction* in his Media course. He says that he worked hard and enjoyed the course. Edward now wants to be a music producer, having just returned from a trip to LA. He will study Music Tech at Portsmouth.
At Hollyfield 69% were awarded A- C grades at A Level. In subjects such as Photography and Product Design, over half of all students achieved A or A* grades. In BTEC subjects, 22% of students achieved Distinction or Distinction* grades and 62% achieved Distinction or Merit grades. 100% of students who completed BTEC courses in PE and Health and Social Care were awarded Distinction*, Distinction or Merit grades, and 55% of Media students achieved Distinction*/Distinctions, which is tremendous.
Mr Warren, the Head of Sixth Form, said, 'Today has been a really positive day for our students, with so many of them getting into their first choice university. We are really proud of their achievements in such difficult circumstances and I am sure that they will flourish at university and in their future careers.'
Ms Jackson, Headteacher said: 'We are very pleased with this year's results. I am delighted for the students; their results today reflect their hard work and effort and they should be very proud of themselves. Many of our students will now go on to study subjects they are passionate about at the universities of their choice, or take up apprenticeships in their chosen fields. This year, more than ever before, the teams around the students, including their families, the sixth form staff and teachers have worked tirelessly to support them, so I would like to offer my congratulations to all of those involved. As always we wish all of our students every success in their next steps'.
Sixth Form Enrolment Days
Hollyfield Sixth Form Come Join Us!
External Student Enrolment is on Thursday 24th August 12-2pm and Friday 25th August 9-11 am.