Hollyfield Live Postponed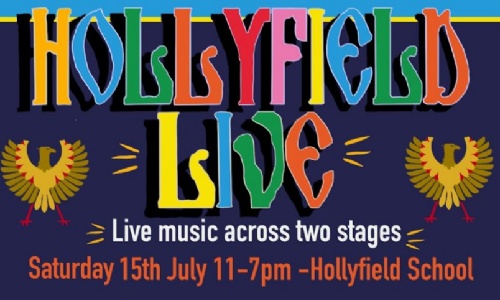 Hollyfield Live Postponed to 30 September. Please see Parentmail for details.
I'm writing to let you know that we have taken the decision to postpone our wonderful music festival, Hollyfield Live. This is due to a severe weather warning, where winds are expected to reach up to 55mph. We could not guarantee the safety of our young performers, nor the staff and parents/carers in attendance if that were the case and I'm sure you'll agree with us that nothing is more important than the safety of our school community.
Sarah Neville and her team have been working very hard to produce a really high quality performance and we will be able to share this with you on Saturday 30 September, so please put that date in your diaries. We will make sure that all pre-purchased tickets are honoured in September or refunded in full.
We are so sorry to disappoint the performers (over a hundred of them) and their families, as we were all really looking forward to the event - and we know many of you had arranged to come and to bring your loved ones with you - but I am sure you can understand our decision.
Have a lovely weekend.
See you on Monday for the final week!